Industrial Rubber Gasketing and Rubber Seals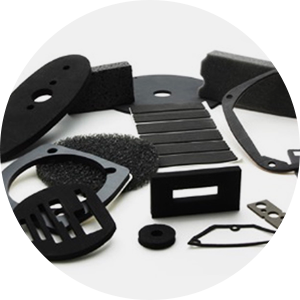 At Thunder Technologies, we custom-cut and fabricate your industrial rubber gasket and rubber seals to custom and standard sizes from master rolls of rubber to match your specifications. Adhesive-backed gaskets are available for many rubber types.
We carry an extensive variety of rubber types to handle the most demanding, critical rubber gasketing and rubber seal requirements including high-temperature rubber gasket strips, chemical resistant gaskets, acid resistant rubber gaskets, reinforced rubber gasketing strips, foam rubber gasketing and more. Thunder Technologies also carries harder-to-find durometers, from soft rubber gasketing and rubber seals to very hard rubber gasketing and seals; vulcanized and vulcanized rubber; as well as hard-to-find thicknesses and widths.
Call our friendly, knowledgeable experts with your specifications. Send us a sample, template or drawing, and we can make it. We can help you select the right rubber for your rubber gasket and rubber seal requirements. Let Thunder Technologies partner with you to on your rubber gasket and rubber seal needs.
Contact us to Purchase
Rubber gasket and rubber seal thicknesses: 1/32″, 1/16″, 1/8″, 3/16″, 3/32, 1/4″, 3/8″, 1/2″, 3/4″, 1″, 1-1/2″, 2″
Rubber gaskets and rubber seal widths to your spec up to a 96″
Any rubber seal length available up to 100 ft
Depending on the type of rubber, colors available are black, grey, red, white, tan. Custom colors may be available
Holes can be punched in-house into rubber gaskets and rubber seals
Adhesive backing can be applied to gaskets and seals
Custom gaskets and rubber strips are cut to your specification or templates, any shape
High volume rubber seals and gasket cutting and fabrication capabilities
Fabricators have over 25 years of custom rubber cutting experience
Knowledgeable and friendly sales experts
Elastomers include, but are not limited to:
Silicone Rubber
Neoprene Rubber
Viton ™ Rubber
Cloth-Inserted Reinforced Rubber
Nitrile Rubber (Buna-N)
Urethane Rubber
Gum Rubber
EPDM Rubber
Foam/Sponge Rubber
Skirt board
And More...